Football has pull a face to us once again with another quality youngster yet to be on the lips of sports commentators.
Sooner than later, The football world will welcome the presence of Emmanuel Appiah Ahmed Bilgate. A 16 yr old, 2021 graduate from St. Paul's Senior High School at Kwahu- Asakraka.
This generational talent is a big centre back with good hight and a good stature making it very difficult for attackers to easily escape. In fact he's a rock and a lion when he's at the last man standing.

Having the leadership skills and also a warrior. Having the eyes to give technical passes and follow instructions on the field.
Also play both right and left foot and difficult to identify his weaker foot.
Former school coach, Sir. Awudu Yakubu of St. Paul's compares him to former Chelsea legend John Terry.
Sir. Yak also described him to scouts of some clubs as a very disciplined hardworking, determination and a passionate person who always love to win.
Former Hearts of oak and Breakum Chelsea coach seth Hoffman described him as a talented footballer when he trained him at Royal Oaks.
Emmanuel Appiah Ahmed Bilgate has passed through some academy clubs like Real United, Accra hearts of oak junior side, Royal oaks, Dumpong Fc and also had a little trails with WAFA.
Lastly, if any club need a Center Back to clear their lines and give them goals it should be Ahmed Bilgate because his trade mark is set- pieces. He can shook the net no matter the distance. As a central defender, he scored 3 goals out of five matches in shs. And also scored 11 goals in 7 matches for Real United (His boyhood club).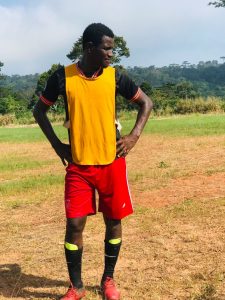 A new rock in Ghana football, watch out for Emmanuel Appiah Ahmed Bilgate. Interesting times ahead and fingers crossed.
Source: Ofosi Desmond Of Hitzmakers.com