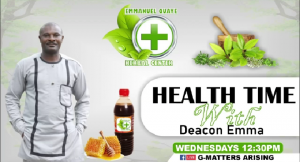 Women spends a lot of money on their breast either to battling with cancer or striving for its perfection. Breast is attractive when it's upstanding and it's addictive to children and men when it is healthy.
In 2020 the World Health Organisation reported that 2.26 million cases of breast cancer in which 685 000 deaths were recorded.
Specialist have alluded this dangerous disease to a lot of causes including eating habits and some specific types of pomades.

Deacon Emma of Emmanuel Quaye Herbal Centre took the time to demonstrate to our dear ladies on the natural process of massaging and handlig the nipples for perfection and prevention of deadly disease like cancer.
The Traditional Healer gave out this preventive education when speaking on G Matters Arising with Nana Fosu on that topic, Cancer.
Watch the video below;
Source: Ofosu Desmond Of Hitzmakers.com