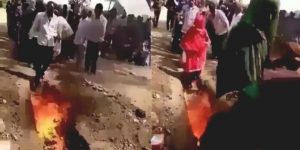 A video circulating on social media shows a group of people around a fire in a pit. Amongst the group is a man standing by with a liquid substance pouring it into the pit.
The group then formed a queue and started walking through the pit of fire.
Apparently, they were being led by their pastor to practice how to survive in hell fire.

Watch Video Below;