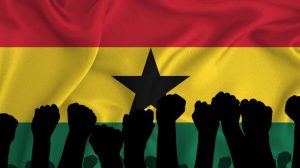 Convenors of #FIXTHECOUNTRY protest say they will intensify their voices on social media today since the court has stopped them from hitting the streets.
The Police Service on Thursday secured a court order to stop the planned protest scheduled for Sunday, May 9, 2021.
The High Court presided by Justice Ruby Aryeetey issued a Restraining Order against conveners until the restriction on public gathering is lifted.
The convenors of the filed a write to challenge the court order at the Supreme Court but the apex court has set June 8 for hearing – a month away from the planned schedule for the protest.
The group however says they will resort to other creative ways to express their concerns about development in the nation.
"We also ask you to Wear Black throughout Sunday. Wherever you are! Whether you are in a Trotro or a V8, Wear Black. On each Hour Between 1pm and 4pm, we are inviting everyone including Trotro, taxi, and uber drivers, and Okada riders to blow their horns for 1 minute,
"On each Hour Between 1pm and 4pm We ask all of you at home, in all your communities to bang on utensils for 1 minute. Upload pictures online of yourself wearing Black, with the hashtags," a statement by the group said.
It added: "Record videos of yourself! Pouring out your issues that need to be fixed! to the world! The world needs to hear us! ✊🏿✊🏿✊🏿. upload them online with the Hashtags.
"You can also choose to Stand ALONE anywhere, including at vantage points in your community holding placards or signs with the Hashtags. Take pictures or videos and Upload them online. ✊🏿✊🏿✊🏿
"Please be assured that the May 9th Protest has not been planned as a one-off event. All the attempts to deny us our voices have shown us that our approach of mobilizing in the Virtual Space is our strongest force. We will not allow their tyranny to reach the virtual space".