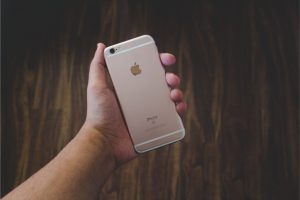 The iPhone is a line of touchscreen-based smartphones designed and marketed by Apple Inc. It is considered to be one of the most important and innovative inventions of the 21st century. All generations of the iPhone use Apple's iOS mobile operating system software – wikipedia.
Since iPhone was launched till date, users consider it to be a bit complex to use as compared to Phones with Android operating system.
We have been getting feedbacks from our users on how they can download songs from https://www.hitzmakers.com with their iPhones.
Today we have you covered. The instructions beneath is compatible with iOS 10.0 or later.
To easily download songs from Hitzmakers.com with your iPhone,
1. Log on to App Store on your phone
2. Search for "Total Files" (Developed by App Ideas).
3. Get it or Click here https://apps.apple.com/gh/app/total-files/id557285579
After downloading and installing the app, launch it
4. After the app has successfully launched , you have to check the menu icons at the bottom of the app.
The menu's are;
Folders
Downloads
Virtual folders
Settings
Browser .
5. Quickly select the browser icon which opens an internet interface for you.
6. In the address bar, type in https://www.hitzmakers.com , it takes you to the homepage.
7. Select any of the songs articles you want.
8. Click on DOWNLOAD
9. The app automatically asks you in whether to download the song or not.
10. Click on download, the app automatically downloads it to your Total Files folder.
With Total Files, You can start multiple simultaneous downloads, pause and restart them in whenever you want. After downloading you can organize files in the archive
* Downloads files of any size
* Instant automatic detection of video/audio files on any web page
* Background download capabilities (on iOS7)
* Downloads all iOS supported document types (doc, xls, ppt, pdf, pages, ..)
*Downloads all iOS supported video formats: mp4, mov, m4v, 3gp, Divx, Xvid, avi, mkv, flv, Ts..
*Download and manage compressed archives (Rar, Zip, also multi-part)
*Download MP3 files in one TAP
*Compliant with almost any Mp3 streaming website
*PIN protected folders
*Watch downloaded video without internet connection
Unlike any other competitor's App, Total downloader offers a complete and full-of-features multimedia player:
*Repeat, shuffle and background playback (with screen off) capabilities
*Unlimited Playlists creation
Mixed playlists with audio & video files
*Mp3 tags informations download
*Albums covers download
*Convert videos to any audio and video format (mp3, m4v, mp4, mov, m4a)
Ringtones creator to create your own ringtones
The multi-tab integrated browser allows to open as many tabs as you want and offers a lot of features, such as:
*Multi-tab fast internet browsing
*Private browsing mode
*Enhanced bookmarks and history management