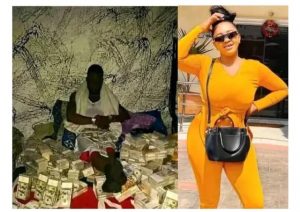 I am Mary Ayiku, I lived with a very handsome and loving gentleman in his own builded house, this gentleman has a lot of money and cars. When we talk of money, this young man really has, he does everything for me he does not stress me, in fact he do everything just to pleases me.
I am the only person living with him in that house, non of his family members know where he stays, he does not bring anyone to his house and he has even warned me countless times not to bring even my mother to the house.
Because of his money, cars and house I wanted him to marry me fast so I can be very assured that those wealth belongs to me also, but when he told me I should not bring my mother and even anyone to the house, I wandered how this man will marry me because he is supposed to see my family before our marriage.

In his house he has a very small room which he has really cautioned me not to ever put a step in that room, I abide to that since he is the owner and boss of the house. In fact before God and man, I don't know the exact job my boyfriend does, he haven't wish me in the morning that he is going to work and come, he have not discuss with me about the job he is doing.
So one day I decided to ask him the job he is doing but what he said was he will tell me later, that is what he has been telling me anytime I asked him about his job, but every night when we go to sleep, he would wake up at 1am at dawn and go out, when you ask him where he is going he will tell you he is coming, he does this everyday.
So one day when he woke up at that same time at dawn, I decided to follow him to where he is going but to my surprise, I saw him entering into the small room where he has warned me not to step a foot there. So that evening I didn't follow him to that small room I got back to sleep. So in the morning when I asked him, he told me to keep quiet and shouted at me and told me not to ask him anything concerning that room again but he has already warned me not to step a foot in that room.
Days passed by, around 12am at dawn he woke up and looked into my eyes verifying if I'm deep asleep I also did as if I'm deep asleep, so he opened the door carefully and closed it carefully so I won't hear any noise from the door, so I waited for some minutes and I follow him but to my surprise I saw him chanting money in that small room.
Meanwhile he has now confirmed before that it is now time for our engagement and wedding.
But now that I have seen this, I'm afraid if maybe he will kill me after our marriage and even kill all our children, should I marry him or run for my life?