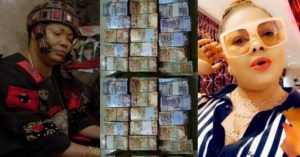 Popular Fetish Priest Nana Agradaa has been arrested by a joint team of Police and National Security Intelligence Operatives with her TV stations also shut down.
The joint operation which was in collaboration with the National Communications Authority took place on Tuesday, April 20, 2021.
According to information gathered by this website, the TV stations namely, Thunder TV and Ice1 TV, were illegally transmitting without licenses, at Kasoa in the Central Region

Two (2) pieces of equipment each used in the illegal transmission were also seized from both premises.
Nana Agradaa advertises her "Sika Gari" on her TV station, which she claims is her personal god that multiplies money with some rituals she makes. She has hence admitted to this illegality and is currently in custody assisting with further investigations.
The National Communication Authority is seeking to clamp down on the influx of unregulated television stations on air which has led to the promotion of certain content which they believe may affect public order, public morality, and the rights and reputation of others.
This move comes few weeks after some teens in Kasoa in the Central region killed a 10-year-old boy for money rituals. Reports indicate that the teens saw the adverts of money rituals on TV and got in touch with a Fetish Priest in the Volta Region to help them make money.
The teens are currently in Police Custody after they were denied bail on Tuesday by the Court to enable prosecutors to ascertain the correct ages of the teens.