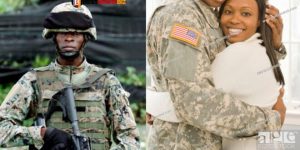 Following the girl's rejection of his proposal to marry him, a military man shot and killed his ex-girlfriend.
This is a common occurrence in our daily lives. Not the shooting part, at least. No, it is the bit about taking care of a lady where the guy gets dumped. This has placed one military guy in hot water after he spent all of his time and money on a lady only to be rejected cruelly by her and her family.

Apparently, the lady persuaded the military guy that she was a virgin, and the military man promised to look after her and marry her when she finished her studies. According to Folkxhub.com's deep throat sources, the military man's passion for the female increased exponentially to the point that he even gave his ATM card to the lady who would later dump him. This is really frightening. We only see this type of love in movies.
The love story and sponsoring went on for four years, and when the military guy wanted to take the relationship to the next level, the lady turned him no.
Unfortunately, the military man's only option in this grave emotional struggle was to use what he knew best- the gun- to deal with the crushing rejection that was slammed in his face.
The lady's mother, according to the narrator, did nothing to assure that her daughter would be thankful. It has now resulted in premium tears for her.
See some chat below;