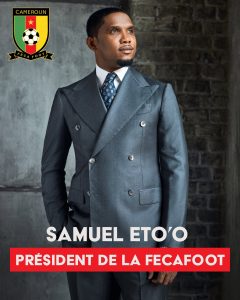 The FC Barcelona and Inter Milan legend has been voted as the new president of the Cameroon Football Federation (CFF).
Former Cameroon international Samuel Eto'o is the new boss of the West African nation's football governing body after winning the 2021 FECAFOOT General elections held on Saturday.
The 40-year-old defeated incumbent Seidou Mbombo Njoya in the FECAFOOT president elections which took place at the Monte Febe Hotel in Yaounde. Seven candidates should have contested the elections, but five of them pulled out on the morning of the elections.

A range of reforms has been promise in Etoo's tenure in office.
"We have to bring footballers to the centre of our policies," he said afterwards. "It is our role to ensure that those who play this discipline make a decent living out of it".
The former Barcelona, Inter Milan and Chelsea star has also promised to construct at least 10 stadiums during his mandate.
"I've spoken to the business community and we're certain we'll get the right investors who can accompany us in fulfilling our goals," Eto'o had said prior to the polls.
He will now be head of Cameroon's FA (Fecafoot) when the country hosts the Africa Cup of Nations in January 7 and February 9.
Check out the post below: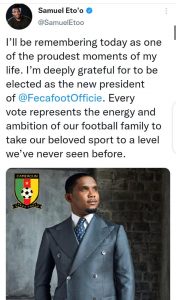 Source: Ofusu Desmond Of Hitzmakers.com