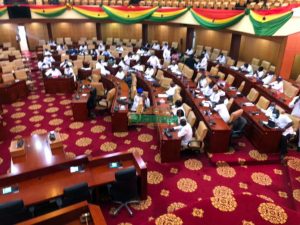 Some New Patriotic Party (NPP) Members of Parliament (MPs) denied themselves sleep and stormed Parliament at 4:am on Friday.
This move was to allow them to sit on the right-hand side of the Speaker of Parliament as they claimed to be the Majority in Parliament.
Photos of the Members of Parliament have flooded social media, showing many of them resting in their seats and sleeping off the spare time they had on their hands.
Many have been reacting to the photos even as the nation awaits the moment for the showdown that is expected to happen in Parliament.

Check out some reactions below:
https://twitter.com/PeterDoeJnr1/status/1349995836227399680/photo/1?ref_src=twsrc%5Etfw%7Ctwcamp%5Etweetembed%7Ctwterm%5E1349995836227399680%7Ctwgr%5E%7Ctwcon%5Es1_&ref_url=https%3A%2F%2Fwww.adomonline.com%2Fsocial-media-reacts-to-npp-mps-sleeping-in-parliament-after-arriving-at-4am%2F
https://twitter.com/Bra_Chillie1/status/1350011946712621056/photo/1?ref_src=twsrc%5Etfw%7Ctwcamp%5Etweetembed%7Ctwterm%5E1350011946712621056%7Ctwgr%5E%7Ctwcon%5Es1_&ref_url=https%3A%2F%2Fwww.adomonline.com%2Fsocial-media-reacts-to-npp-mps-sleeping-in-parliament-after-arriving-at-4am%2F
https://twitter.com/ManKujoe/status/1349978292791762944/photo/1?ref_src=twsrc%5Etfw%7Ctwcamp%5Etweetembed%7Ctwterm%5E1349978292791762944%7Ctwgr%5E%7Ctwcon%5Es1_&ref_url=https%3A%2F%2Fwww.adomonline.com%2Fsocial-media-reacts-to-npp-mps-sleeping-in-parliament-after-arriving-at-4am%2F
https://twitter.com/CheEsquire/status/1350014492348919809/photo/1?ref_src=twsrc%5Etfw%7Ctwcamp%5Etweetembed%7Ctwterm%5E1350014492348919809%7Ctwgr%5E%7Ctwcon%5Es1_&ref_url=https%3A%2F%2Fwww.adomonline.com%2Fsocial-media-reacts-to-npp-mps-sleeping-in-parliament-after-arriving-at-4am%2F
https://twitter.com/ChuckAyitey/status/1350018267633639425/photo/1?ref_src=twsrc%5Etfw%7Ctwcamp%5Etweetembed%7Ctwterm%5E1350018267633639425%7Ctwgr%5E%7Ctwcon%5Es1_&ref_url=https%3A%2F%2Fwww.adomonline.com%2Fsocial-media-reacts-to-npp-mps-sleeping-in-parliament-after-arriving-at-4am%2F