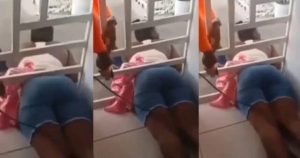 A video serving rounds online has captured the moment a woman was trapped in burglar bars while reportedly spying on her man.
According to viral reports the man attempted going into a house through the burglar bars in a bid to catch her man who she suspects he's cheating on her red-handed.
In the viral video, the woman could be seen trapped in between the bars of a gate while trying to sneak into the house. Unfortunately the size of her butt hindered her, as she could not pass through completely, leaving her trapped.

She had to cry out for help, forcing her man to come out of the house. A welder was eventually called to use his tools to cut the bars of the gate.
Watch video below:
https://www.instagram.com/p/COBVcfDJ–4/?igshid=9gek2h76omet