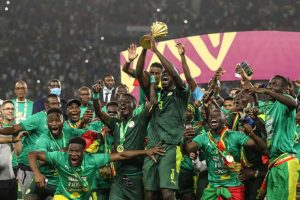 Sadio Mane's winning penalty declared Senegal as champions of the 2021 Africa Cup of Nations, winning it for the first time in their history after edging out Egypt 4-2 on penalties in the final at the Olembe Stadium in Yaoundé.
Coach Aliou Cisse made only one change from their last game introducing Watford forward Ismaila Sarr to replace Bamba Dieng who had a fine game against Burkina Faso.
Also with Egypt, head coach Carlos Queiroz watched from the stands as he continue to serve his suspension so as first choice right back Omar Kamal who is also out due to accumulation of cards, replaced by Zamalek defender Emam Ashour.

Senegal were awarded a penalty in as early as three minutes from kickoff after Saliou Ciss was brought down by AbdelMoneim in the box.
Sadio Mane elected himself and went in for a power but was stopped hugely by Abou Gabasky.
On the 23rd minute, Ismaila Sarr made a great run on the right and sent in a cross to locate Mane at far post but couldn't get that close range connection.
Mohammed Salah made a great run, raced above a pool of defenders to make his way through the box but his shot was too feeble to beat Edouard Mendy.
Mohammed Salah with an opportunity on the 42nd minute after Mohammed Salah dazzled his way through the box but his effort was tipped off the crossbar brilliantly by Mendy on the 42nd minute. It finished goalless after half time.
Back from recess, Senegal were awarded a free kick at a very advantageous position. Gana Gueye delivery went wide for a goalkick.
Ismaila breaks on the 52nd minute, sent in a cross to locate Diedhiou but failed to tap into the net and was gathered by Abou Gabasky.
Egypt with first dangerous goal attempt on the 69th minute. AbdelMoneim headed from Zizou's free kick but flew off the post.
Egypt with another huge opportunity in search for the opener but Marwan Hamdi's header from Fatouh's delivery missed the post by inches.
The game ended goalless after full time and headed straight into extra time.
Boulaye Dia set the half rolling with a great serging run but his final delivery was stopped by Gabasky.
Saliou Ciss cross met Bamba Dieng who followed with a bullet header but was tipped off once again by Abou Gabasky for a corner kick. Abdou Diallo's close range header was wide.
In the second extra, Bamba Dieng came so close again on the 114th minute after a powerful hit from outside but was piled out for a wasted corner kick.
Inside 116th minute, Egypt with a fine build up and fell on Marwan Hamdy in the box but his shot was tipped off for a wasted corner kick.
It was 0-0 after extra time. Senegal are the champions of Africa after winning 4-2 on penalties. Sadio Mane with the winning kick to win it for the first time for his country. Congratulations to Aliou Cisse and his charges.
Source: Ofosu Desmond Of Hitzmakers.com