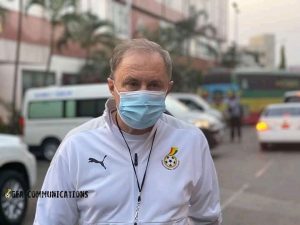 I hope you have read numerous publications about the sacking of Coach Milovan Rajivac on news portals and so as your ears have serve you best discussions on radios as well as televisions.
Time is faster than light nowadays so it's a week since Ghana's dream to satisfy her 40- year trophy drought was withered away by Afcon debutant Comoros.
In fact we experienced our worst performance since we started participating in Afcon finishing 4th in Group C with only a point to glare. Being pinned by Tunisia by a lone goal, sharing points with Gabon and whipped by Comoros.

Coach Milovan Rajivac in an interview boldly stated that he was not appointed to win the Afcon but to qualify Ghana to the World Cup in Qatar 2022.
A coach who has played 8 matches with 3 wins, 3 defeats and 2 draws.
Few days ago it became notorious that The Serbian has been sacked from his post.
But? There's no official communication from the Ghana Football Association that they have sacked the Coach.
Instead, the say-say was generated from a said meeting between the GFA and the Sports Ministry.
Rumours has it that the Sports Minister ordered the FA President to review the contract of Coach Milovan Rajivac. Although they're indirectly demanding for the dismissal of Milovan Rajivac but it's the duty of the FA to take that command into action.
With the above paragraph I know you'll side with me that coach Milovan Rajivac is still the Official Coach of Black Stars.
And until an official communication from Ghana Football Association, disregard any information channeling to the termination of Milovan's contract.
Source: Ofosu Desmond Of Hitzmakers.com